| | |
| --- | --- |
| | Welcome to Weather Wiz Kids®. I'm meteorologist Crystal Wicker. I designed this website especially for kids to allow them to learn more about the fascinating world of weather. It's also a wonderful educational website for teachers and parents to give them the right tools to explain the different types of weather to children. |
Meteorology - The science that deals with the phenomena of the atmosphere, especially weather and weather conditions.

________________________________________________________________

WEATHER HEADLINES


Top forecasters from Colorado State University predict a quiet 2014 Atlantic hurricane season, suggesting that 9 tropical storms will form, but only 3 will become hurricanes. A typical year, based on weather records dating to 1950, has 12 tropical storms, of which 7 become hurricanes. A tropical storm has sustained winds of 39 mph; it becomes a hurricane when its winds reach 74 mph. The forecast was released by meteorologists Philip Klotzbach and William Gray of Colorado State University's Tropical Meteorology Project. The Atlantic hurricane season runs from June 1 to Nov. 30. Klotzbach said a predicted El Niño is one factor that led to their quiet forecast. El Niño, a climate pattern defined by warmer-than-normal water in the tropical Pacific Ocean, tends to suppress Atlantic hurricanes.
Be sure to always have survival kits in your home and car.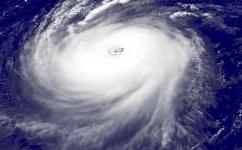 If you're a fan of Weather Wiz Kids, then check out my other website, ExploringWeather.com.